Starwars Destiny: Two-Player Game
FSWD08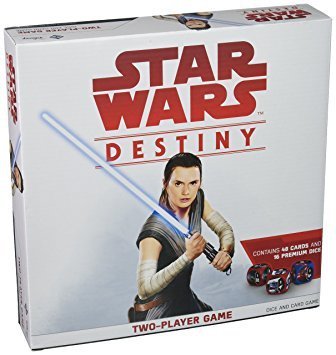 The Star Wars™: Destiny Two-Player Game puts you in an epic battle as Kylo Ren and Captain Phasma challenge heroes Rey and Poe using the fast-paced and easy-to-learn Star Wars: Destiny system. The first player to deplete the health of their opponents through melee and ranged attacks wins the game!
For a deeper look at the mechanics behind Star Wars: Destiny, check out the Destiny minisite as well as our extensive previews showcasing every part of the game!
Learn the ins-and-outs of dice in Star Wars: Destiny
Read a gameplay example
The Star Wars: Destiny Two-Player Game features two twenty-three card decks, rules, and all the resource, shield, and damage tokens needed for a game of Star Wars: Destiny, allowing you and a friend to begin playing almost immediately!